Infra-Red Coagulation (IRC) is a way to remove HSIL using hand-held wand that delivers a short burst of infrared light. When the tip of the wand is applied to skin damaged by Human Papillomavirus (HPV), it burns just the top layer so it can be easily removed with a swab.
IRC has been approved by the US Food and Drug Administration (FDA) for treating genital warts, hemorrhoids, chronic runny nose, and removing tattoos. The ANCHOR study has received approval from the FDA to use IRC to treat HPV-damaged skin in the anus to reduce the risk of anal cancer.
IRC Procedure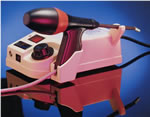 IRC is an out-patient procedure performed with local anesthetic and causes minimal discomfort during and after the treatment. This is a "come-as-you-are" procedure: no special cleaning out the bowels or sedation are needed. Lesions are usually treated in one office visit lasting up to an hour. Additional visits may be required for larger lesions.
Lidocaine numbing gel is applied to the anal area before treatment. A clear plastic tube called an anoscope is inserted a few inches into the anus. A swab soaked in vinegar is inserted make the HPV-damaged areas appear white and a magnifying camera is used to locate the HPV-damaged areas that need to be treated. Additional numbing medicine will be injected in the areas to be treated.
Once the area is numb, the IRC wand is inserted through the anoscope and the tip is applied directly to HPV-damaged skin to deliver heat for 1.5 seconds. This is repeated as necessary to treat all the HPV-damaged cells inside the anus and around the outside of the anus.
A follow up exam is scheduled 3-12 months after the procedure.
What are the side effects of IRC?
You may feel some heat from the IRC tip during the procedure.
Once the numbing medicine has worn off, there can be mild to moderate pain which can be treated with over the counter acetaminophen or ibuprofen every 4-8 hours as needed.
Frequent soaking in warm water (Sitz baths), especially after bowel movements, can decrease the pain.
Avoid lifting anything more than 20 pounds for one week after the procedure.
Avoid anal sex for at least 2 weeks after the procedure.
Drinking plenty of water, using stool softeners (such as Metamucil) and eating more fiber will help minimize discomfort during bowel movements.
Bleeding or discharge with bowel movements can last from 1-3 weeks.
A rare complications affecting less than one percent of patients include infection in the anal area and severe bleeding.
Call the office or go to your local emergency room if you develop severe pain, heavy bleeding, or fever of more than 101.